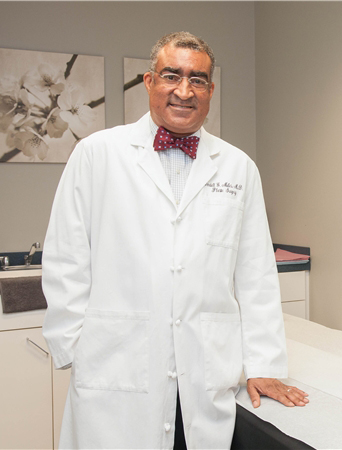 Dr. Miles is certified by the American Board of Plastic Surgery. He is a native Washingtonian and a graduate of the George Washington University School of Medicine. Dr. Miles knew he wanted to be a plastic surgeon, based on his personal experience following a car accident as a child. Following graduation, Dr. Miles was accepted into the General Surgery Residency at Union Memorial Hospital, Baltimore, MD, the oldest continuing private General Surgery Residency in the country. Upon completion of his general surgery training, he earned a fellowship position in Plastic and Reconstructive Surgery at the prestigious Lahey Clinic, Burlington, MA. While there, he was a Clinical Instructor at Tufts University Medical School. He also completed clerkships in the Plastic Surgery divisions of the Brigham and Women's Hospital, Children's Hospital Boston and the Maine Medical Center in Portland, ME. His training included six months of Cosmetic Surgery with the then chief of the Department of Plastic Surgery.
Dr. Miles is dedicated to his patients and takes as much time as is necessary to understand their concerns before selecting a treatment plan. He works hard to provide patients with a variety of options, and to ensure realistic patient expectations. His accessibility, both before and after surgery, is an extra value enjoyed by his patients.
Dr. Miles performs the full spectrum of cosmetic procedures. He enjoys performing eyelid surgery, rhinoplasty, breast surgery and body sculpting

Set up an appointment with Dr. Miles to discuss all your options.